Legacy
A MAN FOR
THE PEOPLE
Mohamed Riaz Ismail was a man of the people, and more importantly, for the people. Born in December 1942, the oldest son in a family of nine, he attended the prestigious Mahinda College in Galle. He unhesitatingly sacrificed his formal higher education, having hailed from a privileged family in the bustling city of Galle, to focus on his lifelong cause – providing education, and thus opportunity for upliftment, to underprivileged children.
His first formal foray into social work was in 1963 with the Galle Muslim Cultural Association which he founded together with a few other young progressives and ran as the Founder President. It was a bold move by a young man hardly out of school, in an environment where the Muslims of the Galle Fort were at loggerheads over theory with no concern for practice. Ismail grew and steered the organisation to unite not only Muslims but people of all faiths and cultures, and to assist underprivileged children gain a good education.
"Social work was in his blood," says one of his colleagues at the GMCA whom he mentored, and an active social worker he remained, until the drawing of his last breath. He never stopped trying, no matter how many avenues closed to him, no matter how many people said 'no'. He was courageous and efficient in getting the required permissions, funding, assistance, etc to help the poor and the needy. An old world gentleman, he was nevertheless also a progressive, believing in and promoting education for girls in an era whence it was frowned upon.
In keeping with his mantra of service, Ismail devoted his professional career to public service, his inherent aptitudes and work ethic resulting in a career that spanned a plethora of ministries, from social services to rural industries development, youth empowerment to socioeconomic development, and defence and agriculture. He served as consular office in the Sri Lankan High Commission in the UK and organised international conferences on nutrition and poverty alleviation during his tenure in the Ministry of Policy Planning and Implementation.
His professional commitments notwithstanding, he never paused on working for the betterment of all peoples in his own time. Apart from his continuous presence in the Galle Muslim Cultural Association in various capacities, he also served the Moors Islamuc Cultural Home, Seyed Abdurahiman Jiffry Mowlana Scholarship Fund, All Ceylon Moors Association, Merci Lanka Foundation, Overseas Sri Lanka Muslim Educational Trust, Lady Fareed Home for Elders and Amal International School amongst many others.
Better known to all as 'Riaz Hajiar', Ismail's untiring labour reached all corners of the country and as a consequence he knew people from across the board in all areas of the island. A man of humour and wit, he was quick with his words, but even quicker with his actions. His home was a revolving door, an open house whose doors were always open, be it at 12 noon or midnight, to anyone seeking help.
Mohamed Riaz Ismail was a truly helpful man, with a true sense of purpose. He passed on from this earthly realm on surrounded by friends and family.
His Life in Pictures
Appreciation
Galle Muslim Cultural Association
M. Haseen
It is with deep regret and sorrow that we ,the members of the Galle Muslim Cultural Association, heard of the sudden and untimely demise of our dear Founder President Marhoom Alhaj Riaz Ismail. When the G.M.C.A was inaugurated over five decades back by a handful of enterprising youth there was a big hue & cry by many elders against its establishment. The Noble ideals of the "Asso" as fondly referred to by the members and the public, were in stark contrast to the social and cultural practices of the then society. Hence, the reluctance by some youth to accept positions of responsibility in the fledgling organization.Unhindered by this unwarranted opposition, Riaz came forward to give the leadership and direction to G.M.C.A. He worked hard with the cooperation of the other members to resolve the teething problems and established it on a sound footing. He even sacrificed his future by neglecting his studies for the sake of the Association. His beloved father lamented that his son a bright student ended up as a clerk instead of a doctor because of his dedication to the Asso. Once, he travelled with another member by taxi to Thihariya to fetch a speaker for Meelad and escaped death when the vehicle almost collided head on with another. Riaz always came forward with many suggestions and ideas to upgrade the standard of G.M.C.A . Celebrating Meelad Un Nabi annually by the association was his brain child. He left no stone unturned to make this annual event a resounding success. He also made much endeavor to improve the Asso Islamic Library. During the communal riots in Galle he played a prominent role under the aegis of the G.M.C.A. to resolve the differences between the two communities and concluded an amicable settlement. Riaz also apprehended the efforts by the Association to upgrade the educational standards of the Muslim Schools in Galle District. Although his health was failing him during the last two years, his enthusiasm and endeavor towards this remarkable organization did not wane. On the contrary he put his heart and soul to ensure stability of the Organization. His Cherished dream was to ensure that the Asso had premises of its own, he also expressed his desire to spend his final years in Galle to enable him to personally guide and direct affairs of the Galle Muslim Cultural Association, which was near and dear to his heart.
Almighty Allah willed otherwise.
May Almighty Allah reward him immensely for his indelible contribution to G.M.C.A and grant him Jennathul Firdous.
A Poem of Appreciation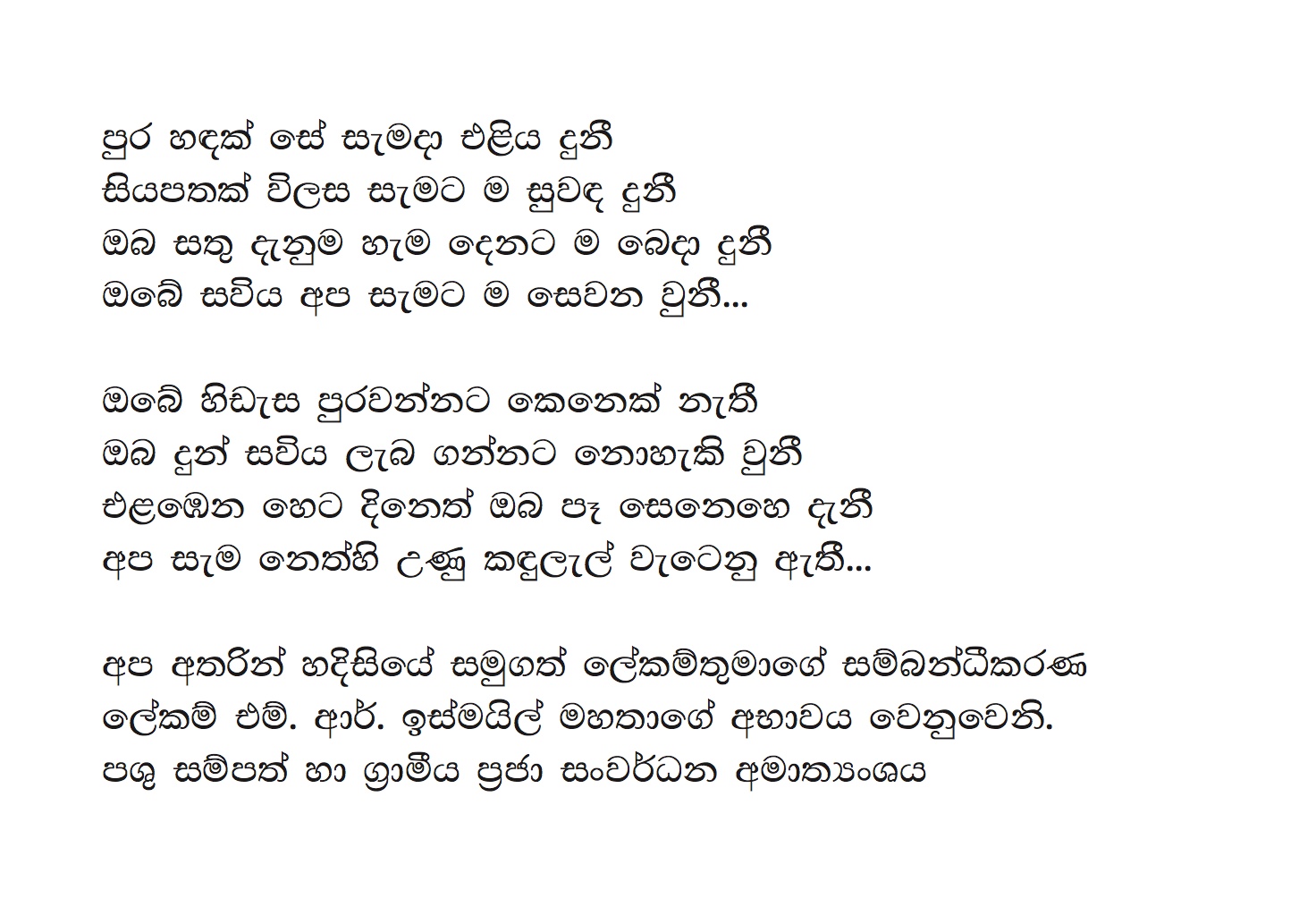 Riaz Ismail; He Served the Country Well
M. M. Rajabdeen
The late Riaz Ismail, who hails from the southern city of Galle, was born on December 23, 1942, was a product of prestigious Mahinda College, Galle. Passing both S.S.C and H.S.C examinations, he joined the general clerical service in 1971 and served till 2001, and retired as a class 1 officer.
He was also the organizer of the International Conference on Nutrition and Poverty Alleviation.
He served at the Ministry of Agrarian Services (1971/74), Ministry of Defense and Foreign Affairs (1974/78) Ministry of Lands and Agriculture (1978/80), Department of Land Commission (1980/82). Between 1986 to 1990, he was attached to the consular office of the Sri Lanka High Commission in the United Kingdom. He was also the protocol officer during the Non-Aligned Summit Conference in 1976, and assigned the task of implementing the 'Consular Functions Act of 1981' at the Sri Lanka High Commission in London in 1987.
Late Mr. Ismail was also the organizer of the Commonwealth Consultative Meeting of Rural Poverty Alleviation in 1992 under the Ministry of Policy Planning and Implementation.
He also worked at the Ministry of Samurdhi, Youth Affairs and Sports and Secretary of the Board of Management, Samurdhi Social Development Trust Fund. He served as the coordinating secretary to many ministries including the Ministry of Social Services and Rural Industrial Development, and Land and Export Agriculture.
A wide and multifaceted administrator, held in the highest esteem by all those whom he served with diligence, honor and loyalty, his work towards society continued as he served as the Chairman of the Management Committee of the Lady Fareed Home for Elders in Makola.
He lived without being a burden to any and enjoying the highest respect of all members of his community which he served without reservation and passed away peacefully. He was laid to rest on the eve of November 15, amidst an unprecedented gathering at the Dehiwela Muslim burial grounds.
May the turf that was softened by the rains lie gently on this man who was a perfect gentleman, a loving husband and father. He leaves behind his grieving wife Zuhriya, daughter Rizwia Irfan and son Gaddafi and Shahine. May Allah grant him the highest abode in Jennnathul Firdous.
The Human Dynamo
M. Liyawdeen
The news of the sudden demise of my cousin and dear friend Ahaj Riaz Ismail early November this year was extremely shocking and saddening and left me dumbfounded for a while.
It was a few hours before that I had called him from Baghdad to seek his assistance in regard to a personal matter. He gladly assured me that he will attend to it the following day.
That day unfortunately failed to dawn on Riaz. Riaz Ismail was a unique person in many ways. From his early days, he displayed signs of dissent and displeasure at injustice and discrimination.
Although born into a respectable family in the sophisticated Muslim society of Fort Galle, he abhorred false pretensions, extravagance and ego-centric lifestyle of some of the wealthy in his enclave.
He did not hesitate to call a spade a spade. Simplicity and fair play were the hallmarks of his character.
When the Galle Muslim Cultural Association was founded by a band of dedicated Muslim youth nearly 50 years ago, there was reluctance on part of many youth to take over the reins of leadership as the noble ideals of this organization was in stark contrast to the very social and cultural fabric of the then Galle Fort society.
However, Riaz considered this as a challenge and opportunity and willingly took over the mantle of leadership of this fledgling organizing as its first president.
His purity of intentions, sincerity of his objectives and his grit and determination coupled with his implicit trust in Allah, motivated Riaz o overcome teething problems and lay the firm foundation that eventually blossomed GMCA into a reputed and renowned organization in Sri Lanka.
Words are but a poor expression of Riaz's indelible contribution to our venerable organization.
His late father once lamented that his son Riaz, a bright student in school sacrificed his career for the GMCA and ended up as a government clerk, shattering his dad's cherished dream of grooming his son as a doctor.
Although a clerk, he soon proved his mettle as a super-efficient and vibrant worker. His productivity and expeditious completion of tasks earned him many accolades from his supervisors.
Late Amara Hewa Madduma, a top civil servant and one-time boss of Riaz admired his capacity and capability and treated him as a peer and mentor.
So was his former superior Dr. Ratnayake and many other Secretaries under who Riaz functioned as coordinating Secretary.
No task whatever its intensity or volume appeared big for this human dynamo. Riaz Ismail was an indefatigable social worker. Whilst his first love was GMCA, he was also actively involved in many other organizations and institutions such as the MICH, MerciLanka Foundation, Amal International School, YMMA Dehiwela –Mount Lavinia and OSMET Scholarship Fund.
He also spearheaded the efforts by the GMCA to upgrade the standard of education of Muslim Schools in the Galle district. He opined that ill equipped Muslim schools were a bane to the progress of the Muslim community, especially the poor from the rural areas. Hence his initiative and endeavor.
The large number of mourners that I learn attend his funeral his ample testimony to the unflinching service he had so un-grudgingly rendered to humanity. Many a family will feel the void created by the demise of this wonderful human being.
Riaz's untimely departure from this mundane world is an unbearable loss to me personally. Allah's Will prevailed. We pray that Allah pardon his sins and accept all his good deeds and Grant him an elevated place in Jannathul Firdhous.